Browsing articles in "#ShoutOut"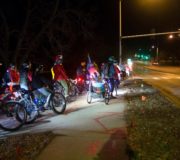 With group rides like the Cycle Works Holiday Lights ride, it's no wonder Lincoln is making a national showing in the LoveToRide rankings despite the cold temperatures. Photo by Rob Evans.  Lincoln's riders didn't slow down in December. Jamie Granquist and John Green were our top commuters and we currently sit 3rd in the 150-400K resident communities rankings.  As a state, we have more miles and riders than any other state in our category (2 million) or […]
The standings were shaken up in November with Sarah Knight slipping to fourth and Ryan Patrick moving from sixth to first in the Top Commuter rankings. In the "Most Trips" category, Maria Goller held her spot, but Paul Gebers charged from eighth in October to second in November. In terms of most miles, both the women's and men's categories were shuffled.
Way to keep riding after the challenge Lincoln & Nebraska! Each month we'll be recognizing riders and groups in Lincoln and across the state in the following categories.  If you know any of these folks, congratulate 'em for their October efforts!