Browsing articles in "Blog"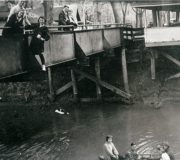 The snow has melted and it's muddy now, but when it dries, and if you know where to look, you can still see traces of some camp buildings and features of the former Epworth Park, in Wilderness Park. It was a summer camp run by Methodists from the first years of the last century until 1935, when 10-14 inches of rain fell over six days. Sound familiar? In 2015 when the park flooded we lost […]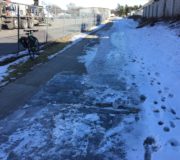 Last week I focused on some history of the Rock Island Trail south of the Penny Bridges, and the proposed connection to Wilderness Park. Here are a few photos I didn't have last week. This week I'd like to focus on where that rail line went north. You've probably ridden on it through Antelope Park, through the tunnel under 27th and Capitol Parkway on to the Antelope Valley project. The old Rock Island Depot is […]
If you've been anywhere near the Penny Bridges lately, you know the trail under them is closed for drainage work. A few of you may remember when the Rock Island trail was a functioning railroad. I do have very dim memories of it since I visited extended family who lived close to the Penny Bridges with a backyard that ended almost at the tracks. I asked my cousin who still lives there what he remembered […]
The standings were shaken up in November with Sarah Knight slipping to fourth and Ryan Patrick moving from sixth to first in the Top Commuter rankings. In the "Most Trips" category, Maria Goller held her spot, but Paul Gebers charged from eighth in October to second in November. In terms of most miles, both the women's and men's categories were shuffled.
Way to keep riding after the challenge Lincoln & Nebraska! Each month we'll be recognizing riders and groups in Lincoln and across the state in the following categories.  If you know any of these folks, congratulate 'em for their October efforts!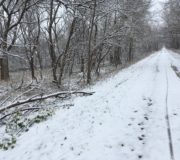 Answer: some of you. I've seen you. We were very fortunate to have had such beautiful weather to ride in over the past few weeks and most of the holiday. Many of you took advantage, because I saw ride pics. I even saw people on the trails who looked like they hadn't been on a bike since summer and had ventured out to revel in the alignment of time off with good weather. I got […]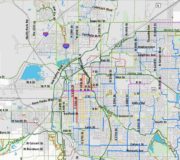 Phase three of the Lincoln Bike Plan is now out and ready for your review and input at https://www.lincolnbikeplan.com/ through Friday, November 30. Many of you have added comments in the preceding phases (over 600), but there is still opportunity to contribute your thoughts. The more familiar you make yourself with this draft, the more informed you will be, and more able to join in the discussion of what will encourage greater numbers of people […]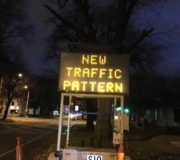 I was unable to make it to the Nebraska Bike/Walk Summit last week, so I talked to someone who did, though as is usually the case, she was unable to clone herself and attend all the sessions. Jamie Granquist manages Lincoln's bike share program, Bike LNK. I asked first about what she took away from the summit. Jamie responded that the presenters agreed that we have the beginnings of good infrastructure and a good culture […]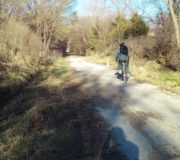 While some of us enjoy riding year round, others admit to hanging up their bikes at the first chill. There are many reasons to keep pedaling deep into the fall and beyond. If you have an established cycling habit, interrupting it makes it harder to get back on track, so why not just keep riding and keep your fitness level up? It's easier than having to gain it back later. The change in seasons gives […]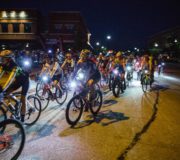 I'm talking about lights, folks. Days are growing shorter and soon we'll see a time change. November 5th dawns an hour later, and it will be dark an hour earlier. How are your lights? You may need them on your morning commute now. Dawn and dusk are low-contrast times of day and reflective gear may not be enough to allow you to be seen. Bright colors don't help in low light situations. You've probably seen […]