Browsing articles in "Blog"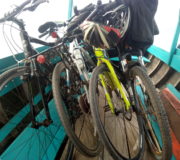 Like the gardener looking at seed catalogs in the middle of winter, cyclists register for summer races, rides, and tours. It's actually too late to register for some of them, but many are still open, and a few of the races are already past. Just about every weekend from May to September has at least one event in the mid-west. You can choose from Gravel, Road, Off-road, Touring, Cyclocross, Gran Fondo, Recreational, Time Trial , […]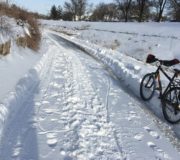 The neighborhood streets were quite passable this morning- when they were just snow packed and not driven on too much yet. A few hours later that wasn't the case. It was the opposite once I got to the trail, the second half of today's first commute. Instead of the 50% more time I'd allotted myself to get to work, it took twice as long. I was glad to see that a couple of hours later […]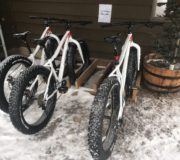 I would venture to say that when it comes to winter cycling deal-breakers, the hands and feet come out on top of the list. After that, it's probably the road conditions, meaning snow and ice. So what have you learned to keep your hands and feet comfortable? There are quite a few options available, ranging from from expensive to free. First, hands. A lack of pogies kept me from having more fun on the fat […]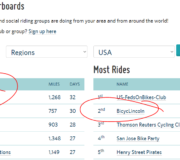 If January gave us anything, it was variety. With temperatures ranging from a high of 60 degrees F (Jan 5) to a low of -9F (Jan 30), commuters really had to think through their apparel. Many did and BICYCLINCOLN tops the NATIONAL chart for the most commute days! Great job, Lincoln!!!!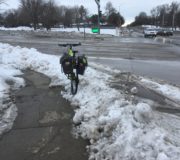 You can sign up at https://winterbiketoworkday.org/. They are also on Facebook, search for Winter Bike To Work Day. I've been reading about other cities and their winter bike commuters lately. Winter bike week is February 2 –9. In Duluth Mn. The week is filled with activities including a Winter Bikepacking and Camping Trip, Winter Bike Commuting 101, Ladies Mountain Bike Night, Bike and Walk to School Day, a People For Bikes Meet-up, Bike to Work […]
So who's still riding in this weather and who thinks it's just not for them? The trails are generally in good shape, barring a little packed ice in spots and some bridges you may have to put a foot down on. The side streets are a mix, but on the whole, passable. This morning I checked the weather, as always, and ended up adding a layer of wool, which I regretted half-way into my commute. […]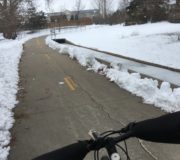 Here in Nebraska many, if not most, people tend to think that riding a bicycle is a warm weather activity. They may even question whether bike trails are used enough in the cold months for them to be "cost effective" or kept ice-free. Those of us who are aware of such things notice many winter riders in places like Colorado and Minnesota. But it's not just Minneapolis that is a cold weather biking powerhouse. If […]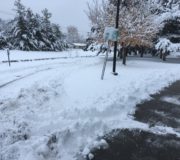 Kudos to the Parks and Recreation Dept. for largely getting the latest round of snow cleaned up before it got packed down on the trails. It wasn't all able to be dealt with immediately, but each area of jurisdiction has it's priorities. I've noticed that when snow falls on a weekend it may take a little longer to get it cleared from trails, so this snowfall is generally being cleaned up quickly. Also, trails and […]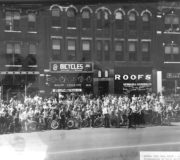 I've talked about our abandoned rail corridors that we use around Lincoln, but what about the other trails? Many, but not all of our trails are mentioned at http://lincoln.ne.gov/city/parksfacilities/trails/ if you want to know a little more. The Billy Wolff, Bison, Salt Creek Levee, and Tierra Williamsburg trails mostly follow greenbelts along waterways. Others, like the Boosalis, Old Cheney, Superior, First Street, and 84th Street trails follow major roadways. Other, smaller trails form connections and open […]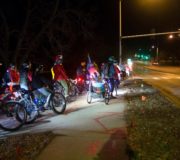 Lincoln's riders didn't slow down in December. Jamie Granquist and John Green were our top commuters and we currently sit 3rd in the 150-400K resident communities rankings.  As a state, we have more miles and riders than any other state in our category (2 million) or the next category larger (2-4 million residents).  Finally, as a group, BicycLincoln leads the nation in most commute days (31) and is 3rd in the "most rides" category.  Even better, three Lincoln […]