Browsing articles from "February, 2019"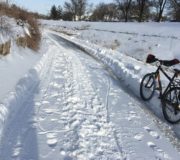 The neighborhood streets were quite passable this morning- when they were just snow packed and not driven on too much yet. A few hours later that wasn't the case. It was the opposite once I got to the trail, the second half of today's first commute. Instead of the 50% more time I'd allotted myself to get to work, it took twice as long. I was glad to see that a couple of hours later […]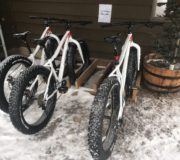 I would venture to say that when it comes to winter cycling deal-breakers, the hands and feet come out on top of the list. After that, it's probably the road conditions, meaning snow and ice. So what have you learned to keep your hands and feet comfortable? There are quite a few options available, ranging from from expensive to free. First, hands. A lack of pogies kept me from having more fun on the fat […]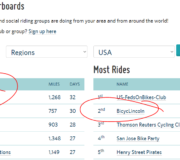 If January gave us anything, it was variety. With temperatures ranging from a high of 60 degrees F (Jan 5) to a low of -9F (Jan 30), commuters really had to think through their apparel. Many did and BICYCLINCOLN tops the NATIONAL chart for the most commute days! Great job, Lincoln!!!!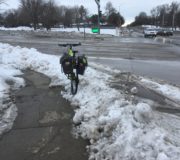 You can sign up at https://winterbiketoworkday.org/. They are also on Facebook, search for Winter Bike To Work Day. I've been reading about other cities and their winter bike commuters lately. Winter bike week is February 2 –9. In Duluth Mn. The week is filled with activities including a Winter Bikepacking and Camping Trip, Winter Bike Commuting 101, Ladies Mountain Bike Night, Bike and Walk to School Day, a People For Bikes Meet-up, Bike to Work […]